Apple Stamping
Apple stamping is a great craft to celebrate the fall season and is perfect for toddlers on up. Made your apple painting into a place mat by covering it with contact paper!


Level of Difficulty: Easy
You will need to use a knife for this craft, make sure young children are supervised!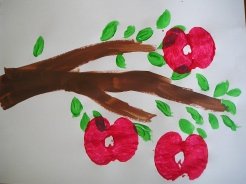 Here's what you'll need
•Apple(s)
•Knife
•Paper
•Paint in fall colors
•Paper plate



Here's how to make it...
1. With your knife cut your apple in half vertically (cutting the apple vertically will give you the apple looking stamp - cutting it horizontally will give you a circluar shape)

2. Pour some paint onto a paper plate and dip your apple into the paper plate. Stamp your appples on the paper in as many different fall colors as you'd like.
Make your apple picture into a place mat by coving it with contact paper. Contact paper comes in a big roll for about $5. You find it where the drawer liners, sponges, mops, etc., are found.


Sign up for our FREE Newsletter
The Busy Bee BUZZzzz
You'll get the BUZZzzz on our new crafts, featured crafts for up coming holidays and seasons, AND learn some fun and useful tips for doing kids crafts - all delivered to your inbox from busybeekidscrafts.com.
Your email address is totally secure, it is only used to send you the Busy Bee BUZZzzz.