3D Candy Cup Christmas Tree
This 3D Candy Cup Christmas Tree is an easy and fun holiday craft suitable for preschoolers on up!

Congratulations to Sr. Bernadette Marie Z. from Manitowoc, WI. who submitted this craft and won runner up for our Christmas crafts contest 2011!


Ages: 3 and Up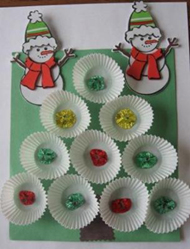 Here's what you'll need...

• Green background paper, construction paper or scrapbook paper can be used.
• A small piece of brown paper.
• 10 white candy wrappers (or small muffin cups) and 10 smaller foil wrappers (or any other embellishments you choose to decorate your tree).
• Glue stick



Here's how you make it...
*Note, the best way to work on this project would be to work from the bottom of the page to the top.
1. Arrange four candy cup wrappers near the bottom of the page.

2. Using the brown piece of paper, glue a small trunk 1 3/4 inches wide by 2 inches long between the second and third cups at the bottom of the page. Then glue the four white cups down on the background paper.

3. Arrange three candy cups nestled above the four cups - glue these down.

4. Arrange two more candy cups above the three cups and glue these down, lastly glue down one candy cup at the top of the tree.

5. Fold the colored foil into shapes kind of like a candy kiss. Glue these foil pieces in the center of each white cup (or glue in any other types of tree decorations into your cups)* We added foam stickers at the top of the project.
You can also buy mini muffin cups that are in Christmas colors/designs, be creative!


Sign up for our FREE Newsletter
The Busy Bee BUZZzzz
You'll get the BUZZzzz on our new crafts, featured crafts for up coming holidays and seasons, AND learn some fun and useful tips for doing kids crafts - all delivered to your inbox from busybeekidscrafts.com.
Your email address is totally secure, it is only used to send you the Busy Bee BUZZzzz.
Find more Christmas Crafts like this 3D Candy Cup Christmas Tree