Animal Crafts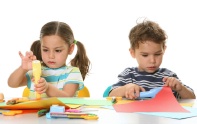 Creating animal crafts is a great opportunity for kids to learn about the creatures that share our earth. This is a wonderful way for children to explore the shapes, sizes and colors of different animals and learn about how each creature lives and grows.
Sign up for our FREE Newsletter
The Busy Bee BUZZzzz
You'll get the BUZZzzz on our new crafts, featured crafts for up coming holidays and seasons, AND learn some fun and useful tips for doing kids crafts - all delivered to your inbox from busybeekidscrafts.com.
Your email address is totally secure, it is only used to send you the Busy Bee BUZZzzz.
Click here to find more crafts like our animal crafts


Make Your Own Photobooks - Kids' Projects
Some of the most lasting projects you can do with your children are making books. Imagine sitting with your child and reading their favorite book. Now imagine that the favorite book is one you made with them or for them. Enjoy these ideas offered at Make Your Own Photobooks.