Outdoor Crafts
These outdoor crafts provide a great opportunity for children to incorporate creativity and craft materials found in their own yards or neighborhoods. These projects are easy and inexpensive kids crafts!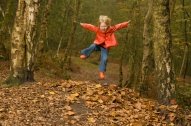 Look around your back yard or neighborhood for stones, sticks, flowers and leaves and get ready to get creative! These crafts are a great way for kids to learn about their natural environment. Children will love to learn about the kinds of plants and trees that live in their region.
Birdfeeder Crafts for Kids
Check out these Birdfeeder Crafts for Kids. There's a birdfeeder craft to create for any age, toddlers on up. What a great way to invite birds into your yard!
My Nature Book
Ages 3 and up
My Nature Book is a wonderful nature craft that's the perfect activity for camping, vacation, or just when discovering the environment outside your home! Great idea for preschoolers on up!


Homemade Sidewalk Paint
Ages 2 and up
This Homemade Sidewalk Paint is so easy to make and is eco-friendly too! You can make it in different colors and it wipes right off!


Paper Waterfall
Ages 4 and up
Make your own homemade Paper Waterfall! There are two versions of this craft: an easier (less messy) version for younger children, and a more involved, challenging version for the older children that uses real water!


Sand Foot Prints
Ages 5 and up
Make your own Sand Foot Prints from dirt from thebeach or from your very own back yard!
Tree Rubbings Collage
Ages 4 and up
This Tree Rubbings Collage craft is a fun outdoor craft for fall or anytime, just change the colors of your leaves!
Dirt Race Track
Ages 3 and up
This Dirt Race Track is so much fun to make and play with, and it's made with sand from your very own yard! Preschoolers will need some help making this, but they'll love to play with it, especially outside!


Turtle Mosaic
Ages 3 and up
Go outside on a "rock collecting mission" to find rocks and pebbles that will make this turtle's hard shell. If you would like to make a smaller version just use a dessert size paper plate.
Parachute-Guy
Ages 3 and up
This craft is not made with things from nature, but this Parachute Guy is a super fun craft for kids to make, and it's just as fun to play with him outside afterward! There are two options for this craft: print out Parachute Guy already colored, or color him yourself!


The Bug Jug
Ages 4 and up
If you have a bug enthusiast in the house try 'The Bug Jug' kids craft. It's a homemade bug collecting jug that is a perfect fun summer kids craft!


Pressed Flower Cards
Ages 4 and up
Make a beautiful gift tag or card using flowers from your own back yard. You don't need a fancy flower press, just a couple of heavy books and some imagination!


Leaf Designs
Ages 4 and up
Kids will love to create these leaf designs, make note or gift cards, wrapping paper or just a beautiful picture to display. Use leaves from your back yard, and make it even more earth friendly by recycling your brown paper bags!

Sign up for our FREE Newsletter
The Busy Bee BUZZzzz
You'll get the BUZZzzz on our new crafts, featured crafts for up coming holidays and seasons, AND learn some fun and useful tips for doing kids crafts - all delivered to your inbox from busybeekidscrafts.com.
Your email address is totally secure, it is only used to send you the Busy Bee BUZZzzz.
Help your family go green!
healthy kids go green
provides fun activities and important information for kids and parents who want to go green at school and home. We offer a kid's club where kids can share pictures and ideas with others. Parents will find valuable resources.
Click here to find more kids craft ideas like these Outdoor Crafts