Leaf Designs
Kids will love to create these leaf designs, make note or gift cards, wrapping paper or just a beautiful picture to display. Use leaves from your back yard, and make it even more earth friendly by recycling your brown paper bags!



A great gift for a nature lover would be a stack of "leaf design" note cards all tied together with a piece of twine!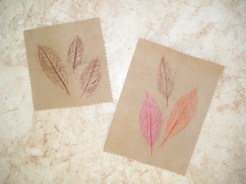 Level of Difficutly: Moderate
Here's what you'll need...
•Leaves (live ones still on the tree work a little better)
•Crayons
•Paper, brown bags or white note paper
•Scissors
•Pinking shears or scrap booking scissors (optional)


Here's how to make it...

1. Find some leaves in your yard or neighborhood, the best one's are live ones and one's that have thick "veins" on the back. Place your leaf under your paper and rub over top of the leaf with a crayon. You may get a better picture if you place your leaf back side up, so that you are rubbing your crayon over top of the veins. Repeat as many times as you like, making as many designs as you can!


Sign up for our FREE Newsletter
The Busy Bee BUZZzzz
You'll get the BUZZzzz on our new crafts, featured crafts for up coming holidays and seasons, AND learn some fun and useful tips for doing kids crafts - all delivered to your inbox from busybeekidscrafts.com.
Your email address is totally secure, it is only used to send you the Busy Bee BUZZzzz.