Coin Collecting for Kids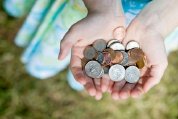 Every coin tells a story. Some coins show us presidents or other famous historical figures. Some tell us about specific landmarks, historical discoveries, animals, plants or other interesting facts about the place the coin represents.
Coin collecting is a wonderful opportunity for children to learn. The images on foreign coins can teach us about countries around the world. Similarly, the U.S. Mint has developed some great coin collections which can help children discover their own country. However, there are plenty of learning opportunities with the loose change we find in our purses and couch cushions. Just regular pennies, nickels and dimes provide a great chance to learn about the coins we see and use everyday.


What Do You Need To Start a
Coin Collection?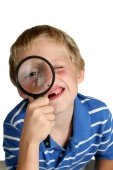 All you really need is some loose change and you're ready to go. However, a magnifying glass would come in handy for looking for certain markings on each coin. The more advanced coin collector may need a coin reference book, and you will also need something to store your coins in. An inexpensive way is to store your coins in an envelope or jar; have a look at our coin collecting crafts at the bottom of the page to find some great, inexpensive ways to collect and display coins.
However, there are special folders that you can buy which have special slots in them for each coin - they make it really fun, and educational, to collect coins. We've searched high and low to find the best coin collecting folders and books, have a look!

Click here to see our Recommended
Coin Folders and Books



How to Get Started
The best way to for children to start a coin collection is to narrow the focus. Collect only pennies, or nickels, or only coins made in or after a certain year. To start, you may want to know about U.S. coin basics , and if your collection will involve U.S. coins you may also want to know some interesting facts about pennies, nickels, dimes and quarters. OK busy bees, here are some great ideas to for children to start coin collections:
Birth Year Coin Collection
Ages 3 and up
A birth year coin collection involves collecting all the coins possible that were made in a child's birth year. This is a great start to coin collecting for younger children since it can be accomplished quickly and children will have a sense of satisfaction from completing the "set."


Mini Mt Rushmore
Ages 3 and up
Kids can make their very own Mini Mt Rushmore with the faces of each Founding Father from a few simple items. Who knew you could make this great American symbol with just the change in your pocket?


International Tooth Fairy
Ages 5 and up
This is a great idea to use with children who are starting to loose their teeth. Ask the tooth fairy to bring the child foreign currency which can be found at a bank (if you live in a big city), or can be purchased online.


State Quarters Coin Collection
Ages 5 and up
A state quarters coin collection provides a wonderful opportunity for children to learn interesting facts and history about the country they live in. This collection will take some time to complete since there are 50 different coins to be found, each one having a unique story.


Westward Journey Nickel Collection
Ages 5 and up
The Westward Journey Nickel Collection is a great way for children in the U.S. to start a coin collection while at the same time learning about an important time in this nation's history.


---

In 2009, the United States Mint will mint and issue four different one-cent coins in recognition of the bicentennial ( 200 years) of President Abraham Lincoln's birth and the 100th anniversary of the first issuance of the Lincoln cent.
Join Amanda, at Meet me at the Corner, for a virtual field trip to the Money Museum in Colorado Springs, Colorado and learn about coin collecting and the new Lincoln penny.
---
Attention home school moms everywhere! The Home School offers a free online magazine for home educating families to exchange information, to give advice and swap learning ideas, to recommend fun days out and healthy recipes and to input their comments on all aspects of home school life and education.


Click here to find more activities like Coin Collecting for kids