State Quarters
Coin Collection
A state quarters coin collection provides a wonderful opportunity for children to learn interesting facts and history about the country they live in. This collection will take some time to complete since there are 50 different coins to be found, each one having a unique story.
Level of Difficulty: Moderate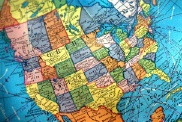 In 1999 the U.S. Mint started a state coin program which involved releasing 50 new quarter designs over a 10 year period. Every year from 1999 to 2008, five new quarter designs were released, each representing a different state. The order in which a specific state's quarter is introduced is based on when that state was admitted into the union. Each of these quarters have images which best represent the state and are based on recommendations from that state's governor.
The front of the state quarters still bears the familiar image of George Washington, along with the words: "United States of America," "Quarter Dollar," "Liberty," and "In God We Trust."

Here's how you do it...
Find a map of the U.S., each time you find a state quarter tape it onto the specific state. You can also buy special books to display your state quarters, however, attaching them onto a map may help children to connect the coin and U.S. geography. Each of the coins have images which best represent the state; a great opportunity to learn about this great country!




Click here to find more Coin Collecting ideas like the
State Quarters Coin Collection