Mini Mt Rushmore
Kids can make their very own Mini Mt Rushmore with the faces of each Founding Father from a few simple items. Who knew you could make this great American symbol with just the change in your pocket?
Ages: 3 and up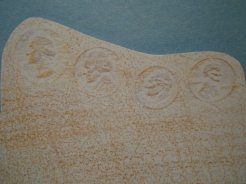 Here's what you'll need...
• Penny, nickel, dime and quarter
• White paper
• Blue construction paper
• Brown crayon or colored pencil
• Tape
• Glue
• Scissors



Here's how you make it...
1. Tape your coins onto your white paper in this order: From left to right, penny, dime, nickel, quarter. Make sure the Presidents' heads are facing up!



2. Flip your paper over and rub your brown crayon or pencil over top of the coins and all around. You'll see the Presidents' faces appear!



3. Cut your white paper into a mountain shape and tape or glue it onto a piece of sky blue paper.
Make this even more fun by asking the child(ren) to find coins made in their birth year.
Special Note: Keep in mind that the Theodore Roosevelt is the President on Mount Rushmore, Franklin D. Roosevelt is the President on the dime.
Not only is this a neat American Craft, but it's also a great opportunity for children to learn about coins, the people and symbols on each coin and what they mean to America. Find out some U.S. Coin Basics , and some great facts about pennies, nickels, dimes and quarters in our Coin Collecting for Kids section!


Sign up for our FREE Newsletter
The Busy Bee BUZZzzz
You'll get the BUZZzzz on our new crafts, featured crafts for up coming holidays and seasons, AND learn some fun and useful tips for doing kids crafts - all delivered to your inbox from busybeekidscrafts.com.
Your email address is totally secure, it is only used to send you the Busy Bee BUZZzzz.
Find more American Crafts like this Mini Mt Rushmore

Find more ideas about Coin Collecting for Kids