Parachute Guy
This Parachute Guy is a super fun craft for kids, and it's just as fun to play with him after you've made him! There are two options for this craft: print out Parachute Guy already colored, or color him yourself!


Ages: 3 and Up
Preschoolers will need some help cutting and tying the knots, but they will love to color and then play with their own parachute guy!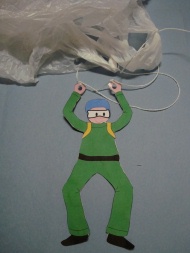 Here's what you'll need...
• Printed Parachute Guy - front and back

Parachute Guy - Front*
Parachute Guy - Back*

Parachute Guy - Front to color*
Parachute Guy - Back to color*

• Scissors
• Glue
• String or yarn
• Plastic bag
• Scotch tape
• Hole punch (scissors will work)


* Instructions for template:
Each template will open in a new window; close this window when you are done printing to return to the activity page. You will need Adobe Reader to open the template. If you do not have it you can download it for free
here
.

Here's how you make it...
1. Cut out your Parachute guy. Glue the front and the back together.



2. Wrap a small piece of scotch tape around each of his hands. This will give it more strength.



3. Punch a hole in each hand.



4. Cut two equal lengths of string. Tie one string. onto on hand and the the other on the other hand. Tie each end to the handles of a plastic bag.
Now you're ready to make Parachute Guy fly.
Don't be tempted to just use the front for your Parachute Guy. The front and the back of glued together give it just enough weight to work properly.


Sign up for our FREE Newsletter
The Busy Bee BUZZzzz
You'll get the BUZZzzz on our new crafts, featured crafts for up coming holidays and seasons, AND learn some fun and useful tips for doing kids crafts - all delivered to your inbox from busybeekidscrafts.com.
Your email address is totally secure, it is only used to send you the Busy Bee BUZZzzz.