Pressed Flower Cards
Make a beautiful gift tag or card using flowers from your own back yard. You don't need a fancy flower press, just a couple of heavy books and some imagination!




Level of Difficulty: Moderate
Younger children will love to see the flowers "pressed," however, the flowers can be very delicate and difficult for little hands to glue. This craft is more suitable for older children.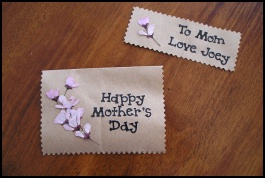 Here's what you'll need...
• A couple of heavy books
• Wax paper
• Flowers
• Paper bags or white note paper
• Scissors (pinking shears optional)
• Glue
• Marker



Here's how you make it...

1.

Find some flowers from around the neighborhood or your back yard. Place the flowers between 2 sheets of wax paper and "press" them into a heavy book. Lay the book flat, with another book or two over top, and leave them at least overnight, or for a couple of days.

2.The next day, carefully take your flowers out of your "flower press." Cut your card or gift tag from brown paper bags, regular white note paper or card stock. Write on your message. Now you are ready to glue on your flowers.
This will make a wonderful addition to any gift!




Sign up for our FREE Newsletter
The Busy Bee BUZZzzz
You'll get the BUZZzzz on our new crafts, featured crafts for up coming holidays and seasons, AND learn some fun and useful tips for doing kids crafts - all delivered to your inbox from busybeekidscrafts.com.
Your email address is totally secure, it is only used to send you the Busy Bee BUZZzzz.
Click here to find more Mother's Day crafts like the Pressed Flower Cards