Homemade Sidewalk Paint
This Homemade Sidewalk Paint is so easy to make and is eco-friendly too! You can make it in different colors and it wipes right off with water!




Ages: 3 and Up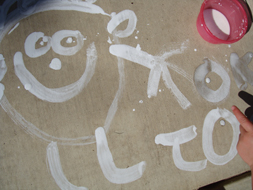 Here's what you'll need...
• ¼ cup corn stach
• ¼ cup water
• 8 drops of food coloring in different colors
• Small containers (one for each color)
• Paint brush(es)

Here's how you make it...
1. In a small container mix the cornstarch and water. Add food coloring. Repeat to make as many colors as you can. If you want white paint don't add any food coloring!
You'll notice when you paint it looks a little watery, but when it dries the colors will be vibrant.
If you are using this paint outside on a warm sunny day it will dry almost immediately. Hose it off, or just use a wet rag. Since this paint is made with natural ingredients it will not harm your plants, grass, or any of your outdoor drains. Happy Painting!


Sign up for our FREE Newsletter
The Busy Bee BUZZzzz
You'll get the BUZZzzz on our new crafts, featured crafts for up coming holidays and seasons, AND learn some fun and useful tips for doing kids crafts - all delivered to your inbox from busybeekidscrafts.com.
Your email address is totally secure, it is only used to send you the Busy Bee BUZZzzz.
Find more Outdoor Crafts like this Homemade Sidewalk Paint

Find more Summer Crafts
Find more Craft Recipes