Baby Pet Turtles
Have the kids make their very own Baby Pet Turtles! This is a fun and creative turtle craft for school-aged children! Make a whole family in different sizes and colors!


Ages: 7 and Up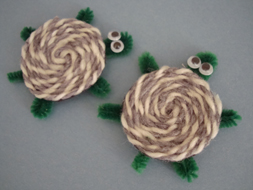 Here's what you'll need...
• Construction paper
• Yarn (we used multicolored yarn)
• Glue
• Green pipe cleaner
• Google eyes



Here's how you make them...
1. Cut a circle from construction paper - choose a color of paper that is similar to your yarn. Our circle was about 2" in diameter, you can make yours as big or as small as you'd like.



2. Spread glue around your circle.



3. Starting in the center of your circle start winding the yarn in a flat spiral. Try to make your spiral as tight as you can.



4. Continue the spiral all the way to the edge of the paper circle, adding more glue as you go if necessary. Cut the yarn and glue the end in place.



5. Cut some green pipe cleaner and make some small "U" shaped legs for your pet Turtle, as well as a head and a tail. Turn your "shell" over and glue the turtle's parts onto the back. Glue on your google eyes and you're done!


Sign up for our FREE Newsletter
The Busy Bee BUZZzzz
You'll get the BUZZzzz on our new crafts, featured crafts for up coming holidays and seasons, AND learn some fun and useful tips for doing kids crafts - all delivered to your inbox from busybeekidscrafts.com.
Your email address is totally secure, it is only used to send you the Busy Bee BUZZzzz.