Balloon Cornucopia
Have the kids celebrate the season by making their very own Balloon Cornucopia! This is a super fun craft that makes a great table centerpiece or homemade decoration!
Make sure you tie your balloons tight and keep in mind the your fruit may deflate a little, so don't make it too far ahead of time!


Ages: 6 and Up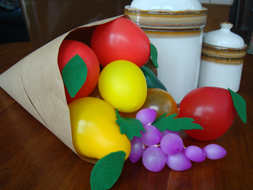 Here's what you'll need...
• Brown package paper or paper bag
• Balloons
• Masking Tape
• Scotch Tape
• Glue
• Green felt or green paper
• Scissors



Here's how you make it...
1. Make a cone shape with a piece of brown package paper or paper bag. Use scotch tape to secure your paper so you can't see it.



2. Blow up your balloons, only a little bit, until they are the size of real fruit. We used regular 9" balloons to make our apples, oranges, lemons, and pears. We used small purple water balloons to make the grapes - if you can't find tiny balloons you could also make purple plums!



3. Use masking tape to stick your balloon fruit into your paper cone. Try and hide the "tie" end of the balloons inside the cone. You can use masking tape to stick the fruit to the cone and to each other.



4. Cut green leaf shapes from felt or paper and glue or tape onto the fruit that's showing outside the cone.


Sign up for our FREE Newsletter
The Busy Bee BUZZzzz
You'll get the BUZZzzz on our new crafts, featured crafts for up coming holidays and seasons, AND learn some fun and useful tips for doing kids crafts - all delivered to your inbox from busybeekidscrafts.com.
Your email address is totally secure, it is only used to send you the Busy Bee BUZZzzz.
Find more Fall Crafts like this Balloon Cornucopia
Find more Thanksgiving Crafts