Breakfast Birdfeeder
The Breakfast Birdfeeder is an easy homemade birdfeeder craft that even toddlers can create. It's a great way to help you child invite birds into your yard!


Level of Difficulty: Easy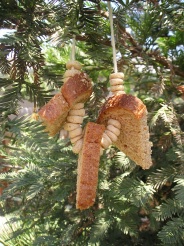 Here's what you'll need...
•Stale bread or toast
•Cheerios, or any round shaped cereal
•Yarn
•Scissors
•Pen or Pencil




Here's how you make it...
1. With a pen or pencil punch holes into your bread slices and if not toasted, leave out until stale (overnight).
2. Using your yarn, string together the bread crusts and cereal and find a great place to hang it in your favorite tree! Soon you will have some little friends in your yard!




Sign up for our FREE Newsletter
The Busy Bee BUZZzzz
You'll get the BUZZzzz on our new crafts, featured crafts for up coming holidays and seasons, AND learn some fun and useful tips for doing kids crafts - all delivered to your inbox from busybeekidscrafts.com.
Your email address is totally secure, it is only used to send you the Busy Bee BUZZzzz.
Click here to find more Birdfeeder Crafts like the Breakfast Birdfeeder!