Busy Bee Magnet
Making any craft into a magnet is easy and inexpensive. You can buy a long strip of self-adhesive magnet at any craft store for under $1, just cut it to fit your craft project and there will be lots of left over.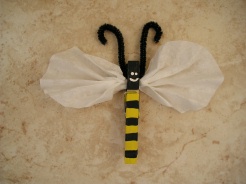 Level of Difficulty: Easy
Here's what you'll need...
• Clothes pin
• Black, yellow and white paint
• Small paint brush
• Black pipe cleaner
• Coffee filter
• Scissors

Here's how to make it...
1. Paint your clothes pin with black and yellow stripes, the "head" should be black (it may turn out better if you paint the yellow stripes first, then the black).


2. Cut about 1" off from around the coffee filter. Once your paint is dry, paint on your bee's eyes and mouth with white paint.



3. Scrunch up the coffee filter at the center and insert into the clothes pin to make the bee's wings. Use half of a black pipe cleaner (about 6"), bend in half and curl the ends to make the bee's antannea, insert into the clothes pin. Stick a self adhesive magnet onto the back.
Great Job! You've made your first busy bee!


Sign up for our FREE Newsletter
The Busy Bee BUZZzzz
You'll get the BUZZzzz on our new crafts, featured crafts for up coming holidays and seasons, AND learn some fun and useful tips for doing kids crafts - all delivered to your inbox from busybeekidscrafts.com.
Your email address is totally secure, it is only used to send you the Busy Bee BUZZzzz.