Candy Car
Make an easy Candy Car with chocolates, life savers and our printable cut-outs! This is a great edible craft for give aways, loot bags, even for Christmas!
Ages: 6 and Up
A glue gun will make this project easy and quick to make, it is unsafe for younger children to use glue guns, so adult help will be required (or just regular school glue).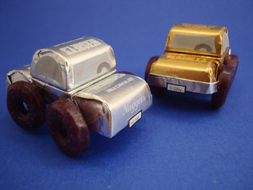 Here's what you'll need...
• Hershey's Nuggets (found in bags in any candy isle)
• Life Savers ** (see note below)
• Hot glue and/or regular white glue
• Printed Candy Car Cut-Outs for one car or for for five cars*
• Sharp pencil or fine tip pen
• Tin foil (optional)


* Instructions for template:
The template will open in a new window; close this window when you are done printing to return to the activity page. You will need Adobe Reader to open the template. If you do not have it you can download it for free
here
.
Here's how you make it...
1. Line up three nuggets; the two ends right side up and the middle nugget is upside down. Glue them all together.


2. Glue another Nugget, right side up, on top of the center chocolate. Make sure you let the glue dry well.



3. Glue (wrapped or unwrapped) life savers on the chocolates to make the wheels of the car. Let the glue dry well


4. If you want to make bumpers for your car trace around the printable template onto a piece of tin foil, twice. Fold the foil over and over to make a thin rectangle.


5. Glue the bumper around the front and back of the car.


6. Cut out the windows and license plates and glue onto the car. Use a sharp pencil or fine tip pen to write on the license plate. You can write "B-Day" or "HO HO" if your making these for Christmas!


** We used unwrapped life savers which work well if you're using these for display or if you don't want to eat the life savers. You can buy individually-wrapped life savers in a bag (not a roll). Just glue the wrapper ends tight around the life savers and glue them to your car. Unwrapped life savers will stick to loot bags and cannot be eaten!


Find more Edible Crafts
Find more Transportation Crafts like this Candy Car