Candy Shamrocks
These Candy Shamrocks are so easy to make and look great on top of cupcakes, or make a bunch and put them in a bag for a great party favor!


Level of Difficulty: Easy to Moderate
This craft involves the use of the oven, make sure children are supervised!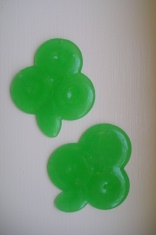 Here's what you'll need...
• Round candy (like lifesavers)
• Tin foil
• Baking sheet



Here's how you make them...

1. One a foil-lined baking sheet, place 3 lifesavers in a triangle shape. Break on of the lifesavers and place a piece under the triangle to make the shamrocks' stem. Make sure all of the candy is touching each other or it will not melt together properly.
2. Heat your oven to 250F and bake for 5-8 minutes or until your candy has melted together. Keep in mind that the candy will melt a little bit more after you have taken it out of the oven. Enjoy your Candy Shamrocks!




Sign up for our FREE Newsletter
The Busy Bee BUZZzzz
You'll get the BUZZzzz on our new crafts, featured crafts for up coming holidays and seasons, AND learn some fun and useful tips for doing kids crafts - all delivered to your inbox from busybeekidscrafts.com.
Your email address is totally secure, it is only used to send you the Busy Bee BUZZzzz.
Click here to find more St Patricks Day Crafts like these Candy Shamrocks

Find more Edible Spring Crafts