Card Making for Preschoolers
Our Card Making for Preschoolers craft can make 'cards with words' easy for Preschoolers who may not be able to write, but they can recognize and pick out letters! These can be made for any occasion or holiday and is a great way to teach children how words are built!


Ages: 3 to 5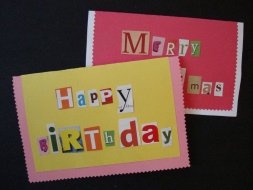 Here's what you'll need...
• Construction paper
• Old magazines
• Scissors
• Glue





Here's how you make it...
1. Cut a piece of construction paper as big as you'd like your card. Cut out the letters you will need from old magazines.
2. Ask the child to pick out the first letter of the word and glue it on the page. Continue until the your message has been built.


Sign up for our FREE Newsletter
The Busy Bee BUZZzzz
You'll get the BUZZzzz on our new crafts, featured crafts for up coming holidays and seasons, AND learn some fun and useful tips for doing kids crafts - all delivered to your inbox from busybeekidscrafts.com.
Your email address is totally secure, it is only used to send you the Busy Bee BUZZzzz.
Find more Card Making Crafts like Card Making for Preschoolers