Changing Tree
This Changing Tree craft is a fun way to celebrate the fall season, flip the paper over and watch the tree change colors!


Level of Difficulty: Moderate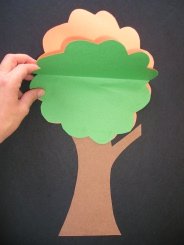 Here's what you'll need...
• Construction paper
• Glue
• Scissors


Here's how you make it...
1. Cut out a brown tree trunk and glue it onto a piece of paper.

2. Place one sheet of green paper and two sheets of orange paper evenly on top of each other. Cut out a tree shape - all three peices of paper should be the same shape.



3. Glue the green tree evenly onto one of the orange trees. Fold in half and glue the bottom half onto the single orange tree. Glue your entire tree onto your trunk. Flip it back and forth to watch the orange fall leaves appear!





Sign up for our FREE Newsletter
The Busy Bee BUZZzzz
You'll get the BUZZzzz on our new crafts, featured crafts for up coming holidays and seasons, AND learn some fun and useful tips for doing kids crafts - all delivered to your inbox from busybeekidscrafts.com.
Your email address is totally secure, it is only used to send you the Busy Bee BUZZzzz.