Christmas Card Garland
Pull out your old cards, or save your Christmas cards for next year and make this easy Christmas Card Garland! This is a great craft for preschoolers, they may need help with the cutting but they'll love stringing the colorful christmas pictures and then decorating the house or tree with their creation!




Level of Difficulty: Easy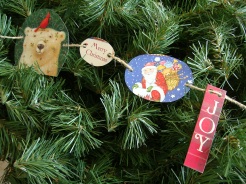 Here's what you'll need
• Old Christmas cards
• Hole punch
• Twine or yarn
• Scissors



Here's how you make it...
1. From your old Christmas cards cut out pictures and words. Make sure you leave enough space on the either end of the pictures to make 2 hole punches.



2. Punch 2 holes in each picture, one on either side. Then string your pictures onto your twine or yarn. The pictures don't slide around a lot on the twine, but if your having problems with this try putting a small piece of scotch tape on the back to keep them in place.
Another, yet more expensive, option is to use a cute christmas pattern ribbon, or balloon ribbon which is a little less expensive. Instead of stringing your pictures could also tie your twine or yarn onto each hole. However, this is much more time consuming and can only be done by children 5 and up.


Sign up for our FREE Newsletter
The Busy Bee BUZZzzz
You'll get the BUZZzzz on our new crafts, featured crafts for up coming holidays and seasons, AND learn some fun and useful tips for doing kids crafts - all delivered to your inbox from busybeekidscrafts.com.
Your email address is totally secure, it is only used to send you the Busy Bee BUZZzzz.
Click here to find more Recycled Christmas Card Crafts like
The Christmas Card Garland

Click here to find more Christmas Crafts for Kids