Christmas Card Wreath
This beautiful Christmas Card Wreath is a great way to reycyled those old Christmas cards and envelopes. So if you don't save your cards, start! There are so many wonderful crafts that can be made!


Level of Difficulty: Easy to Moderate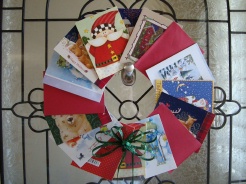 Here's what you'll need...
• Old Christmas cards and envelopes
• Paper plate
• Scissors
• Glue
• Ribbon (optional)





Here's how you make it...
1. Look through your pile of old Christmas cards and find the smallest one. Use this as a template to cut your other cards, so that all the cards are the same size. Place your small card over the larger cards and cut around.



2. Cut a hole inside your paper plate. Make sure you leave some of the "eating" part of the plate so that you have somewhere flat to glue on your cards.



3. Begin to glue your cards around in a fan style, use the curve of the paper plate as your guideline. If you have some christmas ribbon lying around you can glue on a small bow! Check your dollar stores, they always have some nice, cheep ribbon!





Sign up for our FREE Newsletter
The Busy Bee BUZZzzz
You'll get the BUZZzzz on our new crafts, featured crafts for up coming holidays and seasons, AND learn some fun and useful tips for doing kids crafts - all delivered to your inbox from busybeekidscrafts.com.
Your email address is totally secure, it is only used to send you the Busy Bee BUZZzzz.
Click here to find more Recycled Christmas Card Crafts
like this Christmas Card Wreath

Click here to find more Christmas Crafts for Kids