Christmas Spools
These Christmas Spools are a fun, easy and colorful ornament craft for kids! This would be a great Christmas craft project for a group, since one ball of yarn will make tons of these ornaments! Or, make a bunch for one tree, even Preschoolers can make these ornaments!
Level of Difficulty: Easy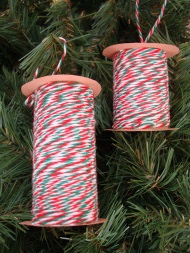 Here's what you'll need...
• Tp roll(s)
• Yarn
• Glue
• Scissors
• Pencil
• Small container to trace around like a spice container



Here's how you make them...
1. First you will need to make 2 brown circles from construction paper or cardboard, for the top and bottom of your spool. Use a small spice container or other round object to trace around. You can use the tp roll as is, but if you want your spools different sizes, just cut them down!



2. In a couple of places on your tp roll spread some glue from top to bottom, you don't have to cover the whole roll. Start to wind your yarn around the tp roll.



3. Once you have put enough yarn around, don't cut it quite yet. Leave a long string, cut it, and tie it together in a knot (close to the spool). This will give you a string to hang your ornament with!



4. Put some glue on the top and bottom of your tp roll and glue on your brown circles. All you need to do it wait for the glue to dry and you're ready to hang your ornaments!




Sign up for our FREE Newsletter
The Busy Bee BUZZzzz
You'll get the BUZZzzz on our new crafts, featured crafts for up coming holidays and seasons, AND learn some fun and useful tips for doing kids crafts - all delivered to your inbox from busybeekidscrafts.com.
Your email address is totally secure, it is only used to send you the Busy Bee BUZZzzz.