Clothes Pin Alligator
This adorable Clothes Pin Alligator is made with a simple clothes pin, paint, a pipe cleaner and googly eyes (if you have them). An easy and inexpensive kids craft to make! Make your aligator "chomp, chomp" by opening and closing the clothes pin!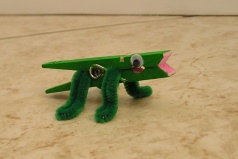 Level of Difficulty: Easy
Here's what you'll need...
• Clothes Pin
• Green paint and brush
• Green pipe cleaner
• 2 googly eyes, or black marker
• Glue
• Scissors or wire cutters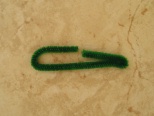 Here's how you make it...
1. Paint your clothes pin green (or whatever color you'd like your alligator to be) Cut your pipe cleaner in half. Fold the ends of your pipe cleaner into the center and press together. Repeat for the other half of the pipe cleaner.


2. Insert the alligator's front legs all the way into the clothes pin. Insert the back legs into the back of the clothes pin (as shown in the picture), you will probably need to glue the back legs to the clothes pin so they won't fall out. Glue on your google eyes on either side of the aligaotors face, or draw them on with a black marker and you're all done, great job!


Sign up for our FREE Newsletter
The Busy Bee BUZZzzz
You'll get the BUZZzzz on our new crafts, featured crafts for up coming holidays and seasons, AND learn some fun and useful tips for doing kids crafts - all delivered to your inbox from busybeekidscrafts.com.
Your email address is totally secure, it is only used to send you the Busy Bee BUZZzzz.
Click here to find more Reptile Crafts like the Clothes Pin Alligator