Clothes Pin Angel
This adorable Clothes Pin Angel is made from a simple clothes pin, coffee filters, yarn, and a pipe cleaner. Make your angel extra special by adding stickers or other decorations to her gown.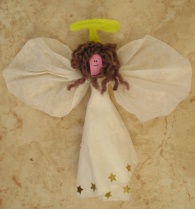 Level of Difficulty: Moderate
Here's what you'll need...
• Clothes pin
• White paint and your choice of face color
• 2 Coffee filters
• Glue
• Yarn (your choice of hair color)
• Black marker
• Yellow or metallic pipe cleaner
• Stickers or other decorations (optional)


Here's how to make it...

1. Paint the bottom of your clothes pin white, and paint the top what ever color you'd like your angel's face. Cut about 1" from around one of the coffee filters (this will be the angel's wings.



2.Once the paint is dry, scruch up the smaller coffee filter in the middle and insert into the clothes pin to make your angel's wings.



3. To make the angel's robe, wrap the other coffee filter around the bottom of the clothes pin, gluing at either end. To make your angel extra special, decorate her robe with stickers or other decorations.



4. Cut 4 or 5 short strands of yarn and unravel them at the ends. Glue them onto the top of the clothes pin to make your angel's hair. This would be a good time to draw on your angel's face with the black marker.



5. With your yellow pipe cleaner, make a hoop and a stem, twist it around to make it secure, and cut of any excess. Insert into the top of the clothes pin to make the angel's halo. You've made a beautiful angel, great job!



Sign up for our FREE Newsletter
The Busy Bee BUZZzzz
You'll get the BUZZzzz on our new crafts, featured crafts for up coming holidays and seasons, AND learn some fun and useful tips for doing kids crafts - all delivered to your inbox from busybeekidscrafts.com.
Your email address is totally secure, it is only used to send you the Busy Bee BUZZzzz.