DOG Bookmark or Pencil Topper
This adorable DOG Bookmark or Pencil topper is a super fun Dog craft for the kids, and it's made with inexpensive materials! You can either put your Dog on a craft stick to make a bookmark, or on the end of a pencil!
This craft was inspired by Laura from Eagle Point, OR. who sent us a craft challenge:
I am doing a craft for Bible Camp and the theme is D.O.G. (Depending on God) I need a doggie craft and would love that it could be something useful [for ages 6-12].


Ages: 6 and Up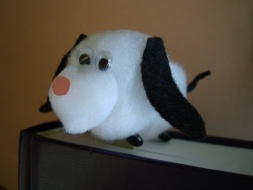 Here's what you'll need
• 2 medium sized Pom poms (can substitute with cotton balls)
• 1 small pom pom
• Felt (black and pink)
• Craft stick (or pencil if you choose that option)
• Glue
• Scissors
• Google eyes
• Dried black beans (optional)



Here's how you make it...
1. Glue the two pom poms on either side of the craft stick (or pencil). Glue the small pom pom onto one of the bigger pom pom to make the dog's snout. (If you're using cotton balls just pull a ball in half and roll it up to make the smaller pom for the snout.)



2. Cut two ears from felt. Glue them on the pom pom.



3. Glue on a small pink circle for the nose and two google eyes.



4. Turn your dog over and glue on 4 black beans for his feet. If you don't have black beans you can always cut out paws from the black felt.



6. Cut out a small piece of felt for his tail and glue it on!
Other options are to glue on spots by using more felt.
If you are using this as a Depending On God craft you can write D.O.G along the craft stick with a permanent marker!

This is a great craft for a group since the materials can be bought in larger quantities. You can buy pom poms, craft sticks, google eyes, and black beans in bags for $1-$2 each. You can use more of those black beans by making our Mini Sheep craft!


Sign up for our FREE Newsletter
The Busy Bee BUZZzzz
You'll get the BUZZzzz on our new crafts, featured crafts for up coming holidays and seasons, AND learn some fun and useful tips for doing kids crafts - all delivered to your inbox from busybeekidscrafts.com.
Your email address is totally secure, it is only used to send you the Busy Bee BUZZzzz.
Find more Sunday School Crafts like the DOG Bookmark or Pencil Topper