Delightful Dragonfly
The Delightful Dragonfly is made with wooden craft spoons and a clothes pin. You may not have wooden craft spoons lying around the house, but you can buy a bag of them at your local craft store for under $2. Make this into a magnet by adding a self adhesive piece of magnet to the back.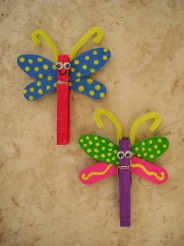 Level of Difficulty: Moderate
Here's what you'll need...
• Clothes pin
• Wooden craft spoons (2 for each dragonfly)
• Pipe cleaner (half for each dragonfly)
• Scissors or wire cutters
• 2 google eyes or black marker
• Paint and brush, your choice of colors



Here's how you make it...

1. Paint each wooden spoon and the clothes pin any colors you choose. Once the paint is dry, criss-cross the spoons and insert them into the clothes pin. Cut 1/2 of a pipe cleaner (about 6") bend in half and curl at the ends to make the dragonfly's antenna. If you have googly eyes, glue them on now, or you can draw on the face with a black marker.
Great Job, make as many as you'd like in as many different colors as you can!




Sign up for our FREE Newsletter
The Busy Bee BUZZzzz
You'll get the BUZZzzz on our new crafts, featured crafts for up coming holidays and seasons, AND learn some fun and useful tips for doing kids crafts - all delivered to your inbox from busybeekidscrafts.com.
Your email address is totally secure, it is only used to send you the Busy Bee BUZZzzz.
Click here to find more Insect Crafts like the Delightful Dragonfly