Dress Up Scarecrow
This Autumn make your own Dress Up Scarecrow to decorate for the fall season. This easy and fun craft is made from simple craft items and stands by itself, over a foot tall! Dress up your scarecrow with a hat and shirt (made from our printable template) and add any embellishments you wish, decorate the hat and shirt!


Ages: 5 and Up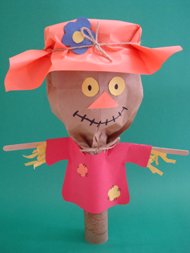 Here's what you'll need...
• Paper towel tube
• Brown paper bag (lunch size)
• Newspaper or scrap paper
• Twine or string
• Printed Scarecrow Shirt Template*
• Construction paper
• 2 craft sticks
• Glue and tape
• Scissors
• Black marker


Here's how you make it...
1. Tightly stuff your paper bag half way full. Stick your paper tube in the middle of the bag and tie a string around the end of the bag to secure it to the tube.


2. Next you will make the scarecrow's hat. Turn your bag upside down and place a standard sheet of construction paper underneath. Tape your paper to the bag (just to keep it in place)



3. Turn your scarecrow right side up and tie a string around the construction paper to secure the hat. You will need to turn up the loose flaps around the hat.


4. Print out the shirt template onto colored paper and fold it evenly in half and open it back up again. Glue a craft stick in either sleeve below the crease in the paper. Glue in small strips of yellow paper.


5. Slide the shirt up the tube through the hole in the center. Slide it over top of the paper bag all the way up to your string.



6. Glue all around the edges of the shirt to close.
7. Now add eyes, nose and a mouth with construction paper and/or markers. Make a construction paper flower to glue on the hat; make patches for your shirt by cutting small squares of paper and stitches made with a marker. Be creative!