Easy Carmel Apples
These Easy Carmel Apples are a great fall activity to do with children. Dip your apple into any kind of topping, like chocolate chips, crushed Oreos, nuts, mini M&Ms or sprinkles!
Don't be intimidated by all the instructions. These are very quick and easy to make. Many people have problems getting the carmel to 'stick' to the apple without sliding down. So, we've included a lot of helpful tips to make these kid-friendly and to make sure they look great too!
Level of Difficulty: Moderate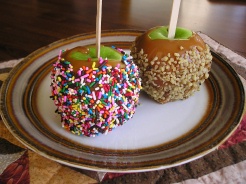 Here's what you'll need...
• 3-4 refridgerated Granny Smith Apples (or any type of apple you choose)
• Popsicle Sticks
• 2 or 4 cup Pyrex measuring cup
• Chewy caramels (10-14oz bag)
• 2 Tablespoons milk
• Spoon
• Wax paper
• Paper plates
• Cooking Spray
• Toppings: Sprinkles, crushed Oreos, nuts, chocolate chips, candy corns, mini M&Ms.
Yeilds 3-5 Apples

Here's how you make them...
1. Take your apples out of the fridge, take the stems off and push a popsicle stick into the top of the apple. Place in the freezer for 5 minutes while your getting your other ingriedients ready.

2. Put your toppings into individual paper plates, ready for rolling.
3. Tear off small squares of wax paper and spray with cooking spray.


4. Place your carmels and milk into a Pyrex measuring cup - this makes dipping so much easier for children! A 1 or 2 cup measuring cup is a good size if your only making a few apples. Microwave on high for 2 minutes, stirring half way through or until caramels are all melted.
5. Let the carmel sit for 1 minute, and then dip each apple, letting the excess drip off and spooning off any big globs. Roll in topping, place on wax paper, and put immediately into the freezer for 10-15 minutes to set. Repeat for each apple, and chill overnight.
Helpful Hints for Carmel Apple Making!
• If you don't want to unwrap all those carmels, Kraft has come out with some carmels made just for apple dipping that are round little balls, have a look for them at your local grocery store!
• You can use any type of apple you'd like, but there's just something about the sweet/tart combo when you use Granny Smith apples.
• It's really important that your apples are well chilled, this makes the caramel stay put and not drip all off the apples!
• You could also use plastic forks for the stick, just poke into the top of the apple


Sign up for our FREE Newsletter
The Busy Bee BUZZzzz
You'll get the BUZZzzz on our new crafts, featured crafts for up coming holidays and seasons, AND learn some fun and useful tips for doing kids crafts - all delivered to your inbox from busybeekidscrafts.com.
Your email address is totally secure, it is only used to send you the Busy Bee BUZZzzz.
Click here to find more Cooking with kids ideas
like these Easy Carmel Apples

Find more Edible Fall Crafts