Easy Spiral Decorations
These Easy Spiral Decorations are a simple way to make your own fun homemade party decorations; all you need is paint and a paper plate! You can make these in any color to suit your party theme!




Ages: 4 and Up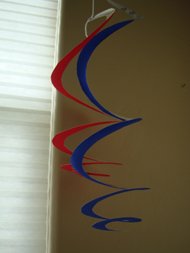 Here's what you'll need...
• Paper plate (any size will do but smaller is better)
• Paint and brush
• Scissors
• String





Here's how you make it...
1. Paint the bottom of paper plate (Why? Because the top or "eating side" of paper plates usually has a waxing coating that does not take paint well.) Start at the outer edge and cut around and around and around.



2. Punch or cut a hole in the outside end of the spiral and attach a string to hang. (If you put a hole on the inside end the painted side will not show as much when you hang them up high.)


Sign up for our FREE Newsletter
The Busy Bee BUZZzzz
You'll get the BUZZzzz on our new crafts, featured crafts for up coming holidays and seasons, AND learn some fun and useful tips for doing kids crafts - all delivered to your inbox from busybeekidscrafts.com.
Your email address is totally secure, it is only used to send you the Busy Bee BUZZzzz.
Find more Fourth of July Crafts like these Easy Spiral Decorations