Easy Witch Broom
This Easy Witch Broom is a great craft for kids to practice those scissor skills, not to mention that it's a great homemade decoration for the house or classroom!


Ages: 3 and Up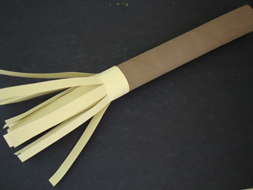 Here's what you'll need...
• Paper towel tube
• Light brown or yellow construction paper
• Scissors
• Glue
• Brown paint and brush (optional)

Here's how you make it...
1. If you want to paint your paper tube you can do that now, or just leave it plain since it's brown anyway.

2. Put your paper on the table, make sure the long side construction paper is running vertically. Prepare the paper first by cutting off about 2" from the bottom (otherwise the bristles will be too long). Cut strips all the way up the paper, making sure not to cut all the way through - leave about 1"-2". Draw lines on the paper to help guide the younger children.



3. Glue the uncut end around the end of your paper tube, it will overlap. If you don't want to hold it while it dries you can always wrap an elastic around it.
4. Bend some of the brooms' bristles (construction paper) outward.


Sign up for our FREE Newsletter
The Busy Bee BUZZzzz
You'll get the BUZZzzz on our new crafts, featured crafts for up coming holidays and seasons, AND learn some fun and useful tips for doing kids crafts - all delivered to your inbox from busybeekidscrafts.com.
Your email address is totally secure, it is only used to send you the Busy Bee BUZZzzz.