Fire Truck Collage
Put out some fires with this fun Fire Truck Collage. This easy firetruck craft for kids is made with simple craft supplies found around the house or classroom! Perfect for preschoolers on up!




Ages: 3 and Up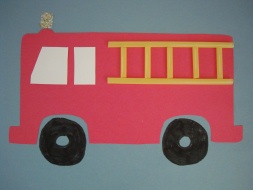 Here's what you'll need...
• Printed Fire Truck Template*
• Construction paper
• Glue
• Scissors
• Straws
• Black paint and brush
• Something sparkly for the light like sequins or glitter glue


* Instructions for template:
The template will open in a new window; close this window when you are done printing to return to the activity page. You will need Adobe Reader to open the template. If you do not have it you can download it for free
here
.

Here's how you make it...
1. Trace the template onto red construction paper and cut out. Cut out the windows from the template (they will be white if you printed the template out on white paper). Glue the windows in place on the red fire truck and glue the fire truck onto a piece of construction paper. (We used blue construction paper)



2. Use straws to make the ladder. Cut two long pieces for the sides, and small pieces for the rungs. Glue in place on your fire truck.



3. Glue something glittery to the top of the truck for the flashing light. We used a glittery pom pom, you can also use a few sequins or glitter glue.



4. Now it's time to paint on the wheels with black paint! If you don't want to use paint in your collage you can also cut wheels from black paper to stick on, or you can buy self-adhesive foam and just stick the wheels on!