Fireplace Ornament
This easy Fireplace Ornament will sure add some cozy warmth to any Christmas Tree! An easy and fun ornament craft for kids!




Ages 5 and Up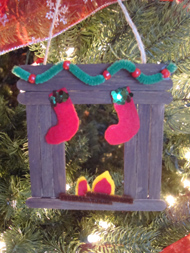 Here's what you'll need...
• 10 craft sticks
• Brown paint and brush (optional)
• Green and brown pipe cleaner
• A few red pony beads
• Craft foam, felt or paper (for stockings and fire)
• Glue
• String



Here's how you make it...
1. Paint your craft sticks brown, or leave them natural. Glue them together to make the fireplace. Three along the top, three on both sides and one along the bottom.



2. Bend your pipe cleaner back and forth to look like garland. Thread a few small red pony beads on the pipe cleaner. Glue it in place on the top of your fireplace.



3. Cut some stockings from felt, paper or craft foam. You can leave them plain or decorate them with some glitter or sequins. Glue them in place.



4. Cut a couple of small pieces of brown pipe cleaner and cut felt, foam or paper to make fire in your fireplace. Glue the logs and fire on the bottom craft stick.
5. Cut a small piece of string and glue onto the back to hang your fireplace ornament.