Fish Baggies
We call these Fish Baggies because they are just that - fish made from zip-lock baggies! If you can scrunch paper you can make this craft, a perfect ocean animal craft for toddlers and preschoolers!




Ages: 2 and Up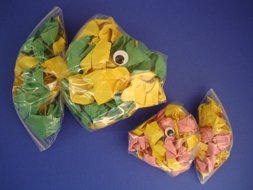 Here's what you'll need...
• Zip-lock baggie (either sandwich or gallon size)
• Scotch tape
• Construction paper
• Rubber band or string
• Google eyes (or white paper circles)



Here's how you make it...
1. Cut the extra part of the baggie that is above the zipper (don't cut off the zipper).



2. Fold both corners of the baggie in (the non-zipper end) and secure with scotch tape.



3. Cut construction paper in squares. Scrunch up you paper into balls and fill up your baggie about ⅔ full.



4. Squeeze the air out of the baggie and seal it. Gather it a few inches from the zipper and wrap a rubber band or piece of string to secure it. The zipper will make the shape of the fish tail. Glue on google eyes on either side of the fish, or cut out paper circles with black dots and glue on.
The larger you make your paper scrunching squares the quicker you will be able to fill your baggie. A sandwich-sized baggie will take about 4 sheets of paper to fill, a gallon-size baggie will need at least double that (it depends too on the size of squares you use).


Sign up for our FREE Newsletter
The Busy Bee BUZZzzz
You'll get the BUZZzzz on our new crafts, featured crafts for up coming holidays and seasons, AND learn some fun and useful tips for doing kids crafts - all delivered to your inbox from busybeekidscrafts.com.
Your email address is totally secure, it is only used to send you the Busy Bee BUZZzzz.