Foot Print Magnets
These adorable Foot Print Magnets are a perfect gift for a Grandparent or for someone special. These would even be fun to do with your baby, change the words to suit the occasion!
You can buy a whole strip of self-adhesive magnet at your local craft or discount department store for under $1


Level of Difficulty: Easy


Here's what you'll need...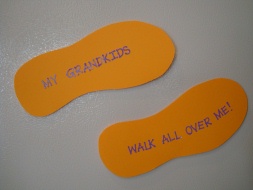 • Cardboard or cardstock paper
• Self-adhesive magnets
• Scissors
• Pencil
• Marker



Here's how you make them...
1. Trace each foot print onto cardboard or cardstock paper. If you are using cardboard try tracing the foot prints onto colored construction paper first so your magnets aren't brown.
2. Cut out each foot print and if you wish, write on your special message. Apply a magnet to the back of each foot print.
Another, more messier, option is to brush the bottom of each foot with paint and press it onto the paper and then cut around it.




Sign up for our FREE Newsletter
The Busy Bee BUZZzzz
You'll get the BUZZzzz on our new crafts, featured crafts for up coming holidays and seasons, AND learn some fun and useful tips for doing kids crafts - all delivered to your inbox from busybeekidscrafts.com.
Your email address is totally secure, it is only used to send you the Busy Bee BUZZzzz.
Click here to find more Grandparents Day Crafts like the Foot Print Magnets