Ghost Goodies
These Ghost Goodies are easy to make and will be a
hit at any Halloween party!


Level of Difficulty: Easy
Keep in mind that these are made with peanut cookies, be cautious of allergies when making this for a group!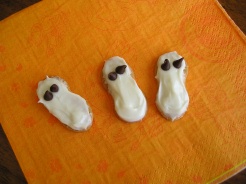 Here's what you'll need...
• Peanut shaped cookies
• White icing
• Mini Chocolate chips



Here's how you make them...

1. With a spoon or knife spread white icing onto your peanut shaped cookie. Clean fingers make for good spreading too!
2. Place 2 mini chococlate chips in the icing where you would like your ghosts eyes and your done, yum, yum!
In most grocery stores you can find the peanut shaped sandwhich cookies, but also look for the 100 calorie pack of peanut cookies, they make this treat a little less sugary.


Sign up for our FREE Newsletter
The Busy Bee BUZZzzz
You'll get the BUZZzzz on our new crafts, featured crafts for up coming holidays and seasons, AND learn some fun and useful tips for doing kids crafts - all delivered to your inbox from busybeekidscrafts.com.
Your email address is totally secure, it is only used to send you the Busy Bee BUZZzzz.
Click here to find more Halloween Crafts like these Ghost Goodies

Find more Edible Fall Crafts