Halloween Treat Bags
We filled our Halloween Treat Bags with a fall apple, but you can fill yours with anything that will fit! A great craft for treat bags, or as a great homemade decoration for the house!
Ages: 3 and Up
Preschoolers can do this craft if an adult does the first couple of "cutting" steps for them!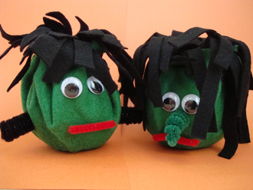 Here's what you'll need...
• 2 pieces of felt (one for the face, one for the hair)
• Small apple or other goodies to fill your bag*
• Yarn or string
• Scissors
• Glue
• Scraps of felt, buttons, pipe cleaners, craft foam, or anything else you have around to make the face on your scarecrow
* If you're going to fill your Treat Bag with small candies or chocolate we recommend you put them in a baggie first!

Here's how you make it...
1. Cut a circle from a piece of felt. Our circle measure 8½" in diameter (we used a standard piece of felt which measures about 9" X 11½")



2. Cut 16 slits around your felt circle (You can make more or less slits, just make sure it's an even number). Make your slits about ½" from the edge of the felt. Cut a long piece of yarn and string it in and out of the slits all around your circle. Make sure the ties are coming out from underneath the felt circle (if they aren't just flip it over).



3. Cut strips of felt about 3"-4" long and glue them all around the edge of your circle.



4. Place your apple (or goody bag) in the center of the felt circle and pull the yarn ties to so it pulls up and over the apple - like a bag.



5. Pull the string tight and tie the ends in a bow. The hair will hang over top, feel free to give your Witch or Frankenstein a hair cut with some scissors!



6. Use scraps of felt or foam, buttons and pipe cleaner to make the face. To Make Frankenstein's bolt just wrap a pipe cleaner around a pencil and glue into place. To make the witch's nose wrap a pipe cleaner around the sharpened end of a pencil (so that it comes to a point) and glue it in place.