Hands and Fingers Wreath
Little hands and fingers make this easy Hands and Fingers Wreath. A great Christmas craft for Toddlers and Preschoolers!




Level of Difficulty: Easy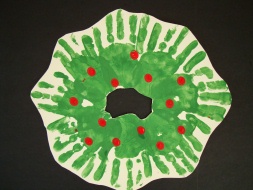 Here's what you'll need...
• Big piece of paper
• Green and red paint
• Big brush (optional)
• Scissors
• Paper plate or shallow dish



Here's how you make it...
1. Pour some green paint into a paper plate or shallow dish. Lightly dip hand(s) into paint and press hand prints in a circlular shape onto a piece of paper.
2. Pour some red paint into a separtate plate and dip a finger(s) into it. Press it onto your wreath to make your berries.
3. Cut out your wreath around the hand prints.
You can make this even easier for little ones by cutting out the wreath shape first and then have the child press their hand print all over the paper, this way they don't have to try and make their hand prints in a circle.
Sometimes handprints are better made by brushing the paint onto the hands and then pressing onto paper. Too much paint on the hands can make smooshy prints and will also make your paper ripple much more! But in the end it's the process, not the product... sometimes it's more fun to put your hand into a big blob of paint!


Sign up for our FREE Newsletter
The Busy Bee BUZZzzz
You'll get the BUZZzzz on our new crafts, featured crafts for up coming holidays and seasons, AND learn some fun and useful tips for doing kids crafts - all delivered to your inbox from busybeekidscrafts.com.
Your email address is totally secure, it is only used to send you the Busy Bee BUZZzzz.
Click here to find more Christmas Crafts like the Hands and Fingers Wreath