Homemade Holiday Gift Bags
Make gifts extra special by making these Homemade Holiday Gift Bags!




Level of Difficulty: Easy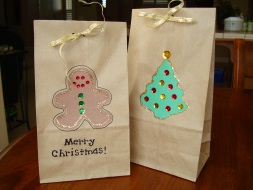 Here's what you'll need...
• Brown paper bag (any size that will fit your gift)
• Ribbon/yarn/twine
• Hole punch
• Embellishments for your bag like construction paper, paint, glitter glue, markers, etc.



Here's how you make them...
1. Decorate your paper bag with embellishments. The bags in the picture were made with holiday shapes traced from cookie cutters onto construction paper and then decorated with glitter glue and sequins. You don't need to be that fancy, younger children can make their own painting or draw one with markers. Glue on scraps of felt or pom poms, whatever you have around the house!
2. Once you're finsihed your art work, put your gift inside the bag. Fold the top of the bag, punch two holes at the top, thread a piece of ribbon through and tie at the front.


Sign up for our FREE Newsletter
The Busy Bee BUZZzzz
You'll get the BUZZzzz on our new crafts, featured crafts for up coming holidays and seasons, AND learn some fun and useful tips for doing kids crafts - all delivered to your inbox from busybeekidscrafts.com.
Your email address is totally secure, it is only used to send you the Busy Bee BUZZzzz.
Click here to find more Christmas Crafts for kids
like these Homemade Holiday Gift Bags