Homemade Medal
This Homemade Medal is a great craft for kids to make to honor someone special. The words or image on your medal looks like it's really stamped onto the front.
A fun craft for Father's Day or for a backyard sporting event!


Ages: 5 and Up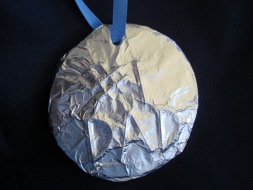 Here's what you'll need...
• Cardboard (cereal boxes work well)
• Tin foil
• Pipe cleaners (can substitute with yarn*)
• Glue
• Scissors or wire cutters
• Ribbon, string or yarn
• Pencil



Here's how you make it...
1. Cut out a circle from your cardboard. With a pencil poke a hole in the top.


2. Using pieces of pipe cleaner, glue your message onto the cardboard.



3. Wrap tin foil around your cardboard, front to back. With your finger press over top and around the pipe cleaner pieces so that they pop out.



4. Rub your finger over top of the tin foil where the hole should be. Poke your pencil through. Thread a piece of ribbon, string or yarn through the hole, and then tie it in a knot.
* Yarn will also work in place of the pipe cleaners. However, it is a little bit more difficult to work with and would be hard for young children to work with.


Sign up for our FREE Newsletter
The Busy Bee BUZZzzz
You'll get the BUZZzzz on our new crafts, featured crafts for up coming holidays and seasons, AND learn some fun and useful tips for doing kids crafts - all delivered to your inbox from busybeekidscrafts.com.
Your email address is totally secure, it is only used to send you the Busy Bee BUZZzzz.