Indian Corn Wall Hanging
This Indian Corn Wall Hanging is a great Fall Craft for all ages. Even toddlers can smear some fall colored paint for corn kernels and older children will love the adorable finished product!


Ages: 2 and Up
Toddlers and Preschoolers will need help wrapping and tying the husk, but they can make the corn kernels all by themselves!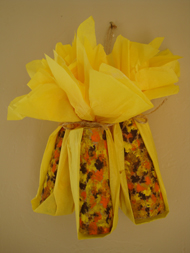 Here's what you'll need...
• 3 toilet paper rolls (or other paper tubes cut down to size)
• Orange, yellow and brown paint*
• Paint brush (optional)
• Yellow tissue paper
• Twine or string
* We used paint to make our corn kernels, you can use other materials to make the corn: Small balls of colored paper glued on; or, if you don't have time to wait for paint to dry you could use markers to draw on the kernels.



Here's how you make it...
1. Put dots of brown, orange and yellow paint over at least one half of the paper tube. You can use a paint brush to dab on the colors; toddlers and preschoolers may find it easier to use their finger tips - it doesn't matter if the colors mix!



2. Once the paint is dry wrap your paper tube corn in the yellow tissue paper leaving some of the corn exposed. We folded our tissue paper in half to give it lots of husk at the top.



3. Gather your tissue paper at the top and tie it with a piece of twine or string. If you need to trim the tissue paper if it's too long.



4. Once you have made 3 of these corn (or more) turn them all over and thread string through the ties of each corn. Make a knot to secure and now you can hang your Indian Corn!


Sign up for our FREE Newsletter
The Busy Bee BUZZzzz
You'll get the BUZZzzz on our new crafts, featured crafts for up coming holidays and seasons, AND learn some fun and useful tips for doing kids crafts - all delivered to your inbox from busybeekidscrafts.com.
Your email address is totally secure, it is only used to send you the Busy Bee BUZZzzz.
Find more Thanksgiving Crafts like this Indian Corn Wall Hanging
Find more Fall Crafts