Johnny Appleseed
This Johnny Appleseed is a great Edible Craft to celebrate the fall harvest! If you can resist eating your creation, you can always set it out for a great fall decoration!


Ages: 4 and Up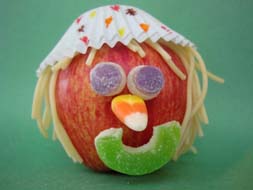 Here's what you'll need...
• Small apple
• Toothpicks
• Candy (we used gum drops, candy corn and ring candy)
• Muffin cup
• Spaghetti, broken in half, cooked and cooled.
• Markers
• Knife if you need to cut your candy



Here's how you make it...
1. Decorate your muffin cup with fall colors. We used markers, you could also use stickers (paint not recommended).



2. Break your toothpicks so they are about 1" long. Attach your candy face to your apple by using these small toothpicks. Note: For younger children it's easier to poke the blunt end of the toothpick into the apple for them first, and have them stick the candy on.



3. Next, put on your spaghetti hair by draping it over top of your apple. Lastly, put on your hat and you're created your own Johnny Appleseed!
You can eat this right away, or set it out for decoration. If you aren't going to eat it right away, the spaghetti will dry overnight, in which case will be inedible, but will still make a really cute fall decoration!


Sign up for our FREE Newsletter
The Busy Bee BUZZzzz
You'll get the BUZZzzz on our new crafts, featured crafts for up coming holidays and seasons, AND learn some fun and useful tips for doing kids crafts - all delivered to your inbox from busybeekidscrafts.com.
Your email address is totally secure, it is only used to send you the Busy Bee BUZZzzz.
Find more Fall Crafts like this Johnny Appleseed
Find more Edible Fall Crafts