Krabby Patty
Any little SpongBob fan will love to build their own Krabby Patty! Make the toppings that you like... order up!


Ages: 4 and Up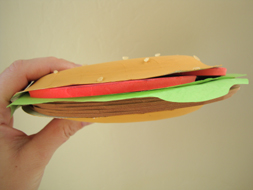 Here's what you'll need...
• 2 dessert sized paper plates
• Bun colored paint and brushes
• Rice (optional)
• Brown and red craft foam (the thickest you can find)
• Green tissue paper or construction paper
• Scissors
• Glue



Here's how to make it...
1. Paint the bottom of each paper plate. We mixed brown, orange, yellow and white paint to make a "bun" color. If you want to skip this painting step you could probably find bun colored plates at a party store.



2. To make a sesame seed bun glue pieces of rice on one of your buns.



3. To make the meat for your Krabby Patty trace around your paper plate onto the sheet of brown craft foam. You will have to trace more than one and glue them together to make your hamburger thick enough. You can buy sheets of craft foam that are about ¼" thick, you will need to cut out at least 3 circles for a good sized patty - if your foam is thinner you will need to cut out more. Make tomatoes by cutting out circles of red craft foam, and use green tissue or construction paper for lettuce. If you'd like to have cheese on you Krabby Patty just cut out a square of orange paper or foam.
You can glue everything together if you wish, but most kids like to make, and re-make their Krabby Patty, so you may want to leave everything loose. Order Up!


Sign up for our FREE Newsletter
The Busy Bee BUZZzzz
You'll get the BUZZzzz on our new crafts, featured crafts for up coming holidays and seasons, AND learn some fun and useful tips for doing kids crafts - all delivered to your inbox from busybeekidscrafts.com.
Your email address is totally secure, it is only used to send you the Busy Bee BUZZzzz.