Leaning Tower of Pisa
Have the kids make their own Leaning Tower of Pisa. This neat thing about this tower is that it can double as a napkin holder for those "Italian celebrations"!
This craft was inspired by Christa from Kenosha, WI who challenged us to come up with an Italian craft for a dinner (suitable for children 12 and up).


Ages: 7 and Up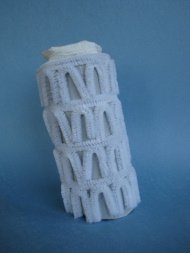 Here's what you'll need...
• Tp roll (or paper towel roll cut to fit)
• Gray or white paint
• Paint brush
• 10-12 white or gray pipe cleaners
• Wire cutters or sharp kitchen scissors
• Glue
• White napkin or paper towel



Here's how you make it...
1. Trim a little bit off on end of your tp roll. Cut it on an angle so your tower will "lean". Paint it gray or white (we did ours gray).



2. Cut a bunch of pipe cleaners into 2 inch sections. Bend each section to make an arch. We wrapped our around a pencil.



3. Glue a pipe cleaner around the top of your tower. Glue an arch below it.



4. Continue gluing arches all the way around. Glue another strip of pipe cleaner underneath. Glue another row of arches underneath.



5. Glue arches all the way down to the end of your tower, gluing strips of pipe cleaner in between.



6. Fold and roll a napkin and place it inside to finish off your Leaning Tower of Pisa!
Your napkin probably needs to be paper, a cloth one may be too heavy and may tip over your tower!


Sign up for our FREE Newsletter
The Busy Bee BUZZzzz
You'll get the BUZZzzz on our new crafts, featured crafts for up coming holidays and seasons, AND learn some fun and useful tips for doing kids crafts - all delivered to your inbox from busybeekidscrafts.com.
Your email address is totally secure, it is only used to send you the Busy Bee BUZZzzz.
Find more Italy Crafts like the Leaning Tower of Pisa