MOM Picture Frame
Make Mom smile with this easy MOM Picture Frame. All you need is a picture and some inexpensive craft materials and you've got one cute gift for Mom. You can either attach magnets on the back of your frame, or tie string or fishing line to the craft sticks to hang. Great for Preschoolers on up!


Ages: 3 and Up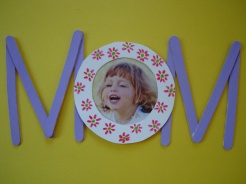 Here's what you'll need...
• 8 craft sticks
• paint and brush
• Glue
• Heavy paper like card stock, paper plate or cardboard
• Picture
• Markers, stickers or paint
• Self adhesive magnet or fishing line/string



Here's how you make it...
1. Paint all your craft sticks the color of your choice.



2. While you're waiting for the paint to dry cut out two circles from your study paper about 4" in diameter (use a small round bowl on container to trace around). Cut a hole in one of the circles to make the frame for your picture. Using markers, crayons, stickers or paint, decorate the frame.



3. Secure your picture into the frame, don't glue the second circle on the back quite yet.



4. Glue your craft sticks together to form two M's. Glue your frame onto either side of the M's to form the word MOM. Glue your second circle onto the back of the picture.
5. You can either stick magnets on the back or attach a string to each M to hang your picture frame.
You can buy a whole strip of self adhesive magnet at a craft store or discount department store for less than a dollar. One strip will make many MOM picture frames. Make sure you use sturdy paper, it will help give strength to your frame!


Sign up for our FREE Newsletter
The Busy Bee BUZZzzz
You'll get the BUZZzzz on our new crafts, featured crafts for up coming holidays and seasons, AND learn some fun and useful tips for doing kids crafts - all delivered to your inbox from busybeekidscrafts.com.
Your email address is totally secure, it is only used to send you the Busy Bee BUZZzzz.