Mitten Lacing
This Mitten Lacing craft is a great way to celebrate the winter season. It will also help children practice their fine motor skills!
If you tie your mittens together they would make a cute tree ornament or winter wall decoration!




Level of Difficulty: Easy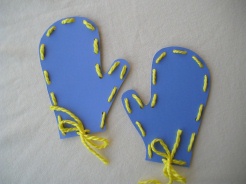 Here's what you'll need...
• Construction paper or cardstock
• Scissors
• Hole punch
• Yarn or twine
• Masking tape
• Pencil



Here's how you make them...
1. On a piece of heavy paper trace around a pair of hands to make the mittens. Heavy paper like card stock is best, if you don't have any, cut your mittens from a paper plate.



2. Punch holes all the way around your mittens. Wrap a piece of masking tape around the end of your yarn (to make it easier to thread). Begin to lace around your mittens.
If you want to tie a bow on the bottom of your mittens start the lacing at the bottom.


Sign up for our FREE Newsletter
The Busy Bee BUZZzzz
You'll get the BUZZzzz on our new crafts, featured crafts for up coming holidays and seasons, AND learn some fun and useful tips for doing kids crafts - all delivered to your inbox from busybeekidscrafts.com.
Your email address is totally secure, it is only used to send you the Busy Bee BUZZzzz.
Click here to find more Winter Crafts like the Mitten Lacing