Moon Landing
This Moon Landing craft is quick and easy to make! You can choose to print the flag and Astronaut in color, or in black and white to color yourself! A creative and fun American Space craft for kids!



This is a great craft for kids to learn about the moon: how the craters are created by space rocks crashing into the surface (the sponge is a great "model")!


Ages: 4 and Up
A preschooler can do this craft if an adult helps with the cutting parts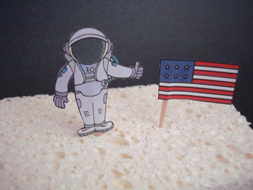 Here's what you'll need...
• Printed Astronaut and flag in color* or in black and white to color yourself
• Sponge
• 2 toothpicks
• Scotch tape
• Glue (optional)

The black you see is just a background for the picture. If you would like black underneath your moon landing just glue your sponge onto a piece of black paper. Or better yet, just paint the inside of a small box (black) and place your moon inside - add some sticker stars while you're at it!



Here's how you make it...
1. Cut out your Astronaut and flag (and color if you chose the black and white option)



2. Break each tooth pick in half and tape a tooth pick to the Astronaut and the flag (pointy end down).



3. We left our sponge rectangle, you could cut your sponge into and oval shape if you wish. Poke your Astronaut and flag into the sponge. It will be secure on it's own, but you can also put a little glue on the ends of the toothpicks to give it some added strength. If you want a black background for your moon landing just glue your sponge onto black paper.
Take this craft one step further by using chalk or white pencil crayon to write the date of the first moon landing on your black paper (July 20, 1969). Or, you can write "One small step for man, one giant step for mankind."
Another fun idea if you have a small picture of the child is to glue the child's face inside the helmet.


Sign up for our FREE Newsletter
The Busy Bee BUZZzzz
You'll get the BUZZzzz on our new crafts, featured crafts for up coming holidays and seasons, AND learn some fun and useful tips for doing kids crafts - all delivered to your inbox from busybeekidscrafts.com.
Your email address is totally secure, it is only used to send you the Busy Bee BUZZzzz.
Find more Space Crafts like this Moon Landing

Find more American Crafts