New Years Crackers
These New Years Crackers are an easy craft for kids to dress up the holiday table. Make it even more special by putting the names of each dinner guest on each cracker!
Level of Difficulty: Easy to Moderate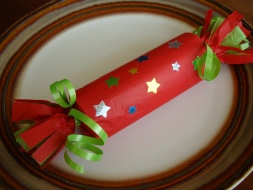 Here's what you'll need
• TP roll (one for each cracker)
• Tissue paper
• Ribbon or yarn
• Stickers or other embellishments from around the house
• Tape
• Scissors
• Something to put inside the cracker like a small trinket or special note



Here's how you make them...
1. Put a small trinket or special note inside your TP roll. Cut the tissue paper so that you'll have lots of excess on either end of the TP roll. We used 2 colors of tissue paper just to make the ends more colorful!



2. Roll the tissue paper around the TP roll. Tape to secure.



3. Gather your tissue paper at either end of the tp roll and tie a ribbon or piece of yarn around (if you don't have either tape will do just fine). Cut the tissue paper ends into fringe.
4. Decorate your crackers with stickers or any other embellishements you have in your craft box; like sequins, scraps of felt, glitter glue, etc.
If you don't have any trinkets try leaving special personalized notes in each cracker - like "fortunes for the coming year", your guest will love it!




Sign up for our FREE Newsletter
The Busy Bee BUZZzzz
You'll get the BUZZzzz on our new crafts, featured crafts for up coming holidays and seasons, AND learn some fun and useful tips for doing kids crafts - all delivered to your inbox from busybeekidscrafts.com.
Your email address is totally secure, it is only used to send you the Busy Bee BUZZzzz.
Click here to find more New Years Crafts like these New Years Crackers