Olympic Flag
Help children learn and celebrate the Olympic Games by making their very own Olympic Flag! This can be made in different variations for different ages!
Each of the Olympic Rings represents a continent: America, Europe, Asia, Africa and Australia


Ages: 3 and Up
Instead of having older children paint the Olympic Rings why not have them make and intertwine rings out of pipe cleaners!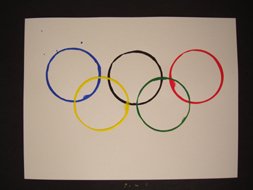 Here's what you'll need...
• White paper
• 5 paper plates
• 5 paper cups
• Blue, black, red, yellow and green paint
• Dowel or a few craft sticks glued together (if you want a stick on your flag)



Here's how you make it...
1. Pour a thin layer of each paint color of into a separate paper plate. Use one paper cup for each color, dip your cup into the paint and press it on the paper, it will make a perfect circle!
It's a good idea to have a finished flag for the children to look at while doing this craft. The ring colors are in this order: top, left to right: blue, black, red. bottom, left to right: yellow, green.
On the Olympic Flag the yellow and green rings are intertwined with the blue, black and red rings. Older children can make rings from pipe cleaners and link them together in the right order.


Sign up for our FREE Newsletter
The Busy Bee BUZZzzz
You'll get the BUZZzzz on our new crafts, featured crafts for up coming holidays and seasons, AND learn some fun and useful tips for doing kids crafts - all delivered to your inbox from busybeekidscrafts.com.
Your email address is totally secure, it is only used to send you the Busy Bee BUZZzzz.