Paper Aquarium
This Paper Aquarium is a great fish craft for preschoolers on up. It would be an easy and quick project for a fish theme day at school!


Level of Difficulty: Easy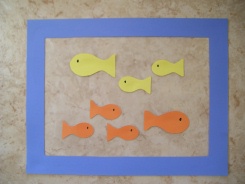 Here's what you'll need...
• Wax paper
• Construction paper
• Glue
• Scissors
• Black marker/crayons/pencil



Here's how you make it...
1. From your construction paper, cut different sizes and/or colors of fish. If you wish, draw on an eye on each fish.



2. Tear off a piece of wax paper about 12"-13" long (make it bigger if you are going to frame your aquarium with a sheet of construction paper that's bigger than 81/2" X 11"). Glue your fish onto your wax paper in any design you choose.



3. Cut a frame out of construction paper, about 1" around. Glue on top of the wax paper.



4. With your scissors cut the excess wax paper from around the frame and you're done!
Hang it in a window and the sun will shine through the wax paper!
Another option is to cut other sea creatures like star fish, crabs and green sea plants to add to your aquarium.


Sign up for our FREE Newsletter
The Busy Bee BUZZzzz
You'll get the BUZZzzz on our new crafts, featured crafts for up coming holidays and seasons, AND learn some fun and useful tips for doing kids crafts - all delivered to your inbox from busybeekidscrafts.com.
Your email address is totally secure, it is only used to send you the Busy Bee BUZZzzz.
Click here to find other Fish and Ocean Animal Crafts
like the Paper Aquarium!