Paper Baseball Field
This Paper Baseball Field is a super fun baseball craft for kids! This is easy to make with our printable cut-outs and simple craft supplies.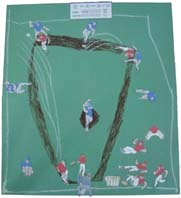 Here's what you'll need...
• Green poster-sized paper OR 6 pieces of green construction paper
• Brown marker
• Chalk
• Printed baseball player cut-outs*
• Scissors
• Glue (or double-sided tape)


* Instructions for template:
The template will open in a new window; close this window when you are done printing to return to the activity page. You will need Adobe Reader to open the template. If you do not have it you can download it for free
here
.

Here's how you make it...
1. If you are using 6 pieces of construction paper you will first need to tape them all together on the back.
2. Using a brown marker and chalk draw on your bases, lines, pitcher mound, etc..
3 Cut out the players you like the best and arrange them on your field. Don't forget to write out the score on the score board and attach to your field!